A to Z BLOGFEST - click "next blog" or "surprise" button on sidebar for more "A to Z"ers
L: Literature
I was never an English Major. I was a theatre major, an education major, and even that last refuge for the truly undecided: a communications major. For some reason, though, I never tackled the big E. I loved books and thought myself a writer-to-be, but I never thought to go that route academically. As a result, I only took the basic English classes, and my only Literature class besides the theatre-related classes like Shakespeare was American Lit 101 (or however they numbered it). As a result, I never got the academic deluge of literary theory that most writers get.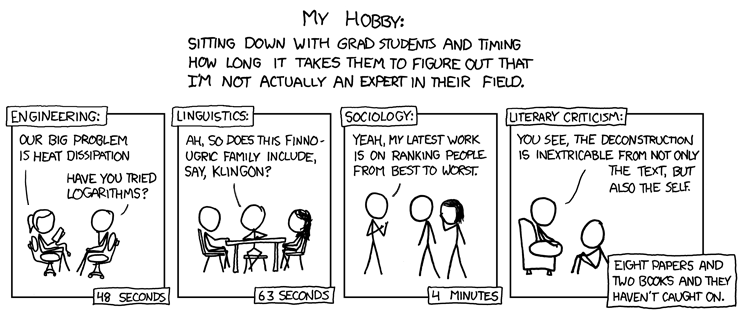 Comic from XKCD.com. Check 'em out.
Does it make me a lesser writer? I don't think so. If I am a lesser writer, it's because of my talent level, or because I don't spend as much time as I should on it. It's not because I didn't spend my twenties reading critical essays on Dickens or analyzing the use of the letter "R" in Thomas Hardy's later works.*
One thing I did lose in the exchange, though, was my ability to discuss the ins and outs of literary theory with any kind of intelligence. In fact, I struggle to answer the basic question: what is Literature?
What makes a book literary as opposed to just a good book? Beats me. I can give you examples: Moby Dick, Fahrenheit 451, The Amazing Adventures of Cavalier and Klay, and can give you examples of those that are just good books: The Hitchhiker's Guide to the Galaxy, Watership Down, The Shining, American Gods. What I can't tell you is why.
Does it matter? For practical purposes, no, not really. I don't have any designs on writing literary fiction; I just want to write good fiction that people enjoy. As for reading, my tastes are eclectic, and I really don't care what others think of them. I'll read Terry Pratchett if I want, or I'll read James Joyce. Actually, I like to switch between quick reads and things a little more challenging.
Anyway, not being able to offer a concrete definition hasn't adversely affected me or my writerly pursuits so far. Maybe there is no true definition after all, maybe it's as subjective as art. I read a comment on another blog that argued passionately that The Hunger Games was literature.
So at least I'm not the only one that doesn't get it.
* I made that up, but there's probably a book out there.